Achieve your goals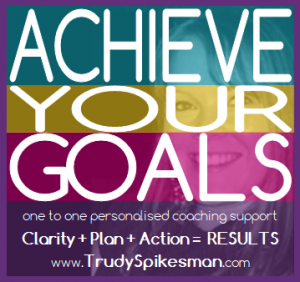 It's far too easy for life to pass you by – day by day, week by week, month by month … year by year!  You suddenly wake up one morning wondering what happened to all those hopes and dreams you once had.
Will you be truly happy if your dreams remain just dreams – things that you only ever WISH you had done?  Or, do you want to make things happen – and experience those wonderful things for real?
Take a moment to answer these three simple questions …
What did you intend to do last year, that you never got round to achieving?
What did you start this year intending to do – that you have not yet made any real progress with?
What situations in your life have you been wanting to change – but you are still tolerating?
If you have a real burning desire for change, and are willing and ready to start taking action, then Trudy can support you in getting clear on what it is you REALLY want, breaking that down in to manageable and achievable steps, and learning techniques to help you handle blockages and overcome self sabotage and external obstacles along the way.
If you are SERIOUS about making change in your life, and reaching success – defined as "living the life you choose" – then Trudy would love to work with you to help you make it happen.
Why choose Trudy to support you in your personal success mission?
Trudy is an international life coach, executive coach and online business strategist.  She has a skill for helping people develop long range vision with clarity, evaluate their current situation and determine the best route from here to there.  Trudy has applied these skills in many situations, helping many people make significant change and achieve successes in their personal lives and businesses alike.  These successes range from individuals reaching personal goals in areas such as career change and relationships, through to managing change processes in multi-national corporations.
Trudy has brought together her skills, experience, training and knowledge to create a program that can be used in just about any change situation.  This program has been named by the three very simple steps it incorporates …"Define it | Divide it | Do it".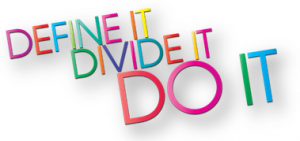 If all you did was to take that phrase and apply it literally … you would have a very good chance of success.  If you take that along with the support that Trudy can provide in one of the many options available … that chance of success increases exponentially.
As well as delivering her personal life change support through one-to-one coaching and in group workshops, Trudy has developed a range of products to aid people on their ultimate adventure from where they are now to where they really want to be.
Having the support of a coach will inspire you to be more motivated and set and reach really inspirational goals that will change your life for the better, as well as providing you with tools and techniques that will help you handle change and obstacles – forever!
Trudy's personal mission is to empower YOU to be the person you want to be and live the life you choose.
Because Trudy is so passionate about helping people reach their potential, she makes the support available for you to achieve that, whatever your current personal situation is, whatever your starting point, and whatever your learning style.
Trudy embraces how different people are, and how distinctly different your ambitions are from every other person she is supporting and has supported to change their lives.  It's the variety in life, in people's personalities, in people's dreams and challenges that Trudy loves so much in what she does.  Everyone's experiences and aspirations are deeply personal to them – YOUR history and YOUR future plans are unique and personal to YOU – and Trudy LOVES working with people to set and reach INCREDIBLE goals … in many different life areas and with hugely diverse outcomes.  She would LOVE to work with YOU to help you push the boundaries of what you feel is possible right now so that you can reach your highest heights and live an amazing life that makes you want to SPRING out of bed every day because you're passionate about what each day will bring.
With that mission as the key focus, Trudy has developed  a range of ways that you can have access to her support to make the changes you want to be your best and live the live you choose.
Programs available to you are as follows:
Teleseminars
Group workshops
Online access to "members only" resources
Mail order products for self coaching at home
If you want to be the type of person who MAKES THINGS HAPPEN – take the first step toward the life you desire, and call Trudy – today on 01962 733479.