Daily Inspiration 02-May-2012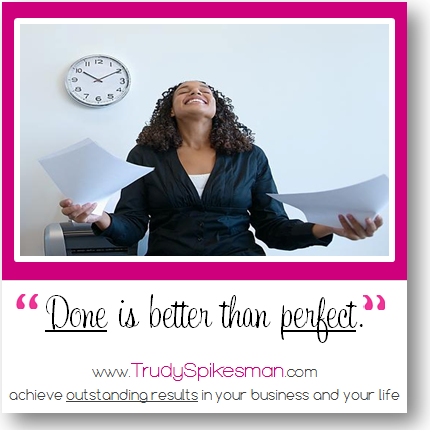 "Done is better than perfect."
How many projects do you have on your to do list right now?
What difference would it make to your life (and the lives of your family, friends, clients, colleagues) to complete any single one of those projects?
Pick just one of those projects right now, and answer this very simple question …. how soon could you complete this project if perfection were not a requirement?
Now make a commitment to achieving THAT deadline, and get to work!
Don't fuss over the details of when and how, block out some sections of time in your schedule that you can realistically dedicate to getting the job done.  Sketch out the milestones to achieve for each time block. Make sure to keep your promises to yourself – keeping in mind the benefits that will come from having the project complete – for yourself and all those who stand to gain from it's completion.
Keep in mind that the pain of discipline is far less than the pain of regret.  How awesome will it feel to nail that project … vs … how rubbish it will feel to still be in the same situation next week, next month or worse still next year … ! How does the disappointment of not completing that project compare to the amazing feeling of getting it done?
Imagine the outcome, picture the job done, focus on that feeling … and go make yourself proud!