Daily Quote 22-Apr-2012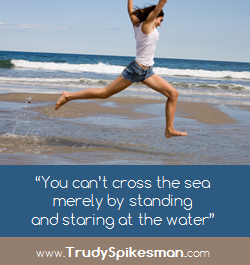 "You can't cross the sea merely by standing and staring at the water."
Sitting on the shoreline looking out at the sea is a beautiful place to be.  Assembling the pieces of the jigsaw that make up your image of goal success is a also a fabulous place to be. What a waste to leave it there though!
Spend some time focusing on the outcomes, make sure you are passionate about the results you are going to achieve … and then … lay out the plan of action, and TAKE THE FIRST STEP!
Never allow the planning phase to stop there. Creating the plan, whilst an action in itself, is not an action that brings your goal closer.