Daily Quote 21-Apr-2012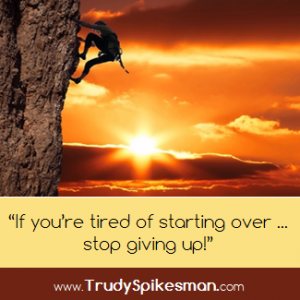 "If you're tired of starting over – STOP giving up!"
In the same way that a car engine that is continually stopped and started uses more fuel that one that is kept running and moving forward at a steady consistent speed … the effort it takes to keep starting over is FAR greater than the energy it takes to keep moving forward.
Not every step needs to be a giant one, not every gesture needs to rock your world, the key is to simply never stop.
Everyone has moments of doubt and wobbles in confidence that the end result will be attained, but one thing is for sure … if you allow yourself to quit – you will certainly NOT reach your goal.
In your moments of weakness … TAKE ACTION! Tick a niggly little task off your goal list, or better still – take the biggest boldest step that you can imagine in that moment – and feel the excitement that comes from taking on that challenge with yourself … and smashing it!