Referral Based Marketing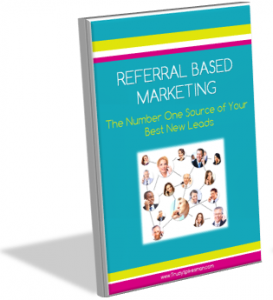 Whether you're a self-employed dog-walker, an online business coach, a direct sales
consultant, or a multi-million-pound purveyor of electronic gadgets (Apple, anyone?)
the number-one source of your best new leads is through referrals.
This 14 page PDF takes you through 10 Referral Fire Starter Tips to really get the very best results from referral based marketing.

Contents
Intro
Referral Fire Starter Tips:
Ask!
Set Up a Successful Process
Reward the Referrer
Give Great Service
Gather Customer Testimonials
Market Your Program Creatively
Make It Easy for Referrers
Moving It Forward
Troubleshooting
What NOT to Do
Conclusion